Whenever other friends from overseas come to visit we take them to Abe because it never fails to impress. Filipino food at it's best! f you are looking for a fine dining restaurant but are on a tight budget, then Abe Restaurant in Serendra is the place to go
Abe's owner is from Pampanga, so you shouldn't be surprised why their food is mouth watering! Staff are very helpful and friendly. "The staff has only one guideline – the guest is king. We aim to please in quality and service," confirms Mr. LJC himself. Abe surely gives that royalty feeling to its clients.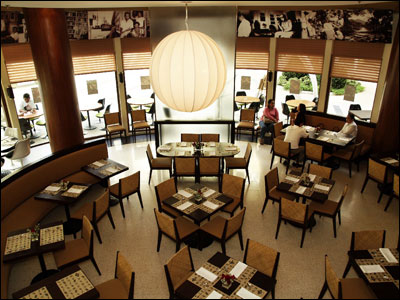 Expect Abe to be packed during dinner-time and the weekends. Reservations are highly encouraged. Unlike some restaurants in the Metro, if you call-in for a reservation and you're a little late, more often than not, your table will be given to someone else. At Abe, you are sure to have that table waiting for you and your party. One piece of advice though: be considerate. If you're running late or planning a rain check, call to inform them or to cancel. A lot of people are waiting in line!
This restaurant always delights me with standard Filipino fare with a twist. Good place to bring balikbayans or Foreigners. . Rice is unlimited. Ambience is okay, service is good. Price is above-average, but as the late Larry Cruz says, usually the best Filipino Restos are found in the above-average price range. A friendly tip: reserve in advance so you can get a good table.
Carrying the tagline, "Where good friends dine,, Serendra Circle's Pinoy Restaurant  has people lined-up to experience the underlying love of good food and good company that they have to offer. From the theme to the food and service, your money is worth every minute spent in this elegant yet homey creation.
The founder and president of the LJC Group of Restaurants , Mr. Larry J. Cruz (LJC), pays homage to his father, Abe Cruz, and his works through the founding of Abe restaurant. Respected writer and artist Emilio Aguilar "Abe" Cruz (1915-1991) was considered a bon vivant and gastronome in his time. This Manila-born Capampangan has literally eaten his way around the world, a result of his position as ambassador for UNESCO in the 70's. Abe's menu reflects a selection of his Filipino favorites, from old Binondo to his favorite Capampangan dishes and other regional recipes as well.
Here's what we had for lunch:
My friend had the Abellini cocktail drink (left) – a refreshing white rum, cantaloupe, middle with shaved ice. I tasted it and it was so good if I didn't have to worry about my next appointment I would have ordered my own drink. I just had an iced tea which was on the right and it was refreshing.
This is delicacy a from Pampanga, rice field crickets sauteed in tomatoes and onions. We ordered the Arobung Kamaru which was a hit at our table. It was an instant favorite. The crickets were delicate, slightly crunchy, and tasted almost hollow. I guess this is how most insects would be texturally.If I were to have any complaints, it would be that the crickets got a little too oily after a few bites, so be sure to temper it with lots of rice, or better yet beer, as this would make fantastic bar chow. Maybe they can come up with a battered and deep fried version called "Kamaru Rebosado.
Suam na Mais, Pinoy Corn Soup is the Pinoy version of corn soup. The authentic recipe uses native sticky variety of white corn. To make the dish the corn kernels are grated straight from the cobs.Who would have thought we have a local version of the corn soup sans milk? Considerably a native corn soup, the "suam na mais" never fails to keep us soothed during cold and rainy days. Even more comforting is that it can be taken as soup—rich and warm by itself, or as a main course with steamed white rice.
I forgot the name of this dish but this is so good!!! The curry and coconut flavors complemented the crab beautifully. We'll definitely be ordering this again.
Abe's Sugpo sa Aligue ng Talangka is flavor heaven and cholesterol hell. It is made with prawns simmered in the most flavorful fat of small tiny shore crabs. This dish is terrifically rich and flavorful than most as it combines the richness of aligue with the prawn's distinct flavor as it simmers in it. What you get is a very thick and rich sauce reminiscent of the original palabok and pancit Malabon sauces. It's not about the purest aligue flavor in it but having the best blend of fats that will linger in your mouth. You may also try mixing the sauce with Abe's unlimited rice. The prawns are fresh, tender, and oozing with flavor. At P595, you must try this at least once. Live a little.
One thing you will always expect from the LJC Group – great tasting food and excellent service.My favorite Abe dish is the  Lechon Cubano, which is an all time favorite. Surely Che Gueverra fighting with Fidel over the dish's crispy skin is naturally expected. The meat of the pork was very juicy and so tender it slips right off the bone. The skin was perfectly roasted and had that distinct crispiness I always look for whenever I eat Lechon.
A piece of advice though: finish it as soon as it is served as, after a few minutes, the skin can become too rubbery and the meat cold and chewy.
Ang Sikreto Ni Maria. I know, it looks just like one big mound of white fluff but behind all these are layers and layers of heaven! So, what's Maria's secret? It's sticky rice (suman) with mangoes, coconut cream, semi-frozen ice cream and sweetened young coconut (pulot). I cannot describe how heavenly it tastes because I'm sure my adjective list will not suffice.
I love it so much because of all the different flavors and textures. The sticky rice is chewy and perfectly cooked; the mangoes were ripe and firm; the coconut cream was at room temperature and just had a bit of sweetness to it; the semi-frozen ice cream melted beautifully over the sticky rice; and the young coconut strips added crunch and elevated the taste to another level! YUMMY! It's also not too sweet and the combination and layering of flavor is perfectly balanced, you can't just have one.
Offering a wide variety of dishes, Abe Restaurant presents its clients with sophisticated, elegant and traditional Capampangan food, in addition to its old Binondo, Filipino and World dishes. Mr. LJC himself vets every dish on the menu to make sure that each one has been prepared carefully and served with love.
Abe is really worh worth a visit because it is the only circular structure in Serendra, offering its guests with a wide and panning view of pedestrian and commercial activity – perfect for Sunday afternoon people watching. Additionally, Abe's art works, drawings and memorabilia, can be found throughout the restaurant, along with vintage photographs and rare Philippine wood and panels. The contemporary feel and well-selected background music completes the dining experience for everyone in the family.